High Garden Tea House: An Herbal Wellness Sanctuary
Home

High Garden Tea House: An Herbal Wellness Sanctuary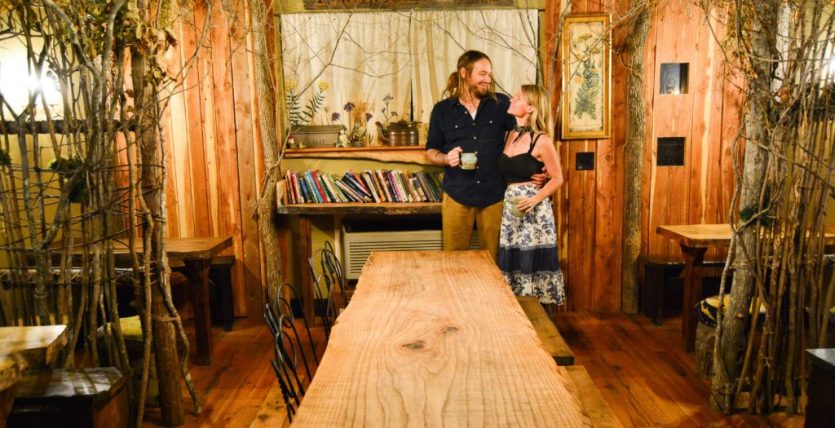 Leah and Joel Larabell at the High Garden Woodland Tea House & Sipping Apothecary
At , Leah and Joel Larabell share their love of herbs and tea in a serene wellness-focused teahouse located in East Nashville, Tennessee.
Leah Larabell
Leah has worked with herbs most of her life and was drawn to them for their wellness benefits. She built on her knowledge of herbs through directed study with Certified Professional Medical Herbalist Lisa Bedner, who taught Leah about traditional Native American herbal blends used by the Tihanama tribe. Soon afterward, in 2007, Leah became known for custom blending herbs for people in her home and then continued her studies under Southern Herbalist Darryl Patton.
"I wasn't doing what you saw on the shelves … I was doing whole, bold herbs from Appalachian folk-style recipes," Leah said. "People liked them and that blew my mind."
Advertisement
Then, she began supplying her herbal blends to restaurants. Later, in 2012, she and Joel opened a 250-square-foot tea shop in an eclectic retail start-up community called the Fatherland District. The high demand for their herbs and teas precipitated the need to move into a larger space. They also wanted a location in which people could sit and relax; so in 2016 they moved into their current location, a 2,000-square-foot teahouse.
Leah and Joel Larabell
"We wanted a place where people could be for hours," Leah said. "It's that deep connection that we all crave, especially as we get more separated in our homes, cars and offices—there is that deep calling to reconnect."
High Garden's laid-back atmosphere and its warm and charming rustic woodsy décor attract customers. People read, create art, write poetry and talk with each other. There is no Wi-Fi, so laptops are not part of the environment.
Leah and Joel are conscientious about their herb and tea sourcing.
"It's really important to us that we buy the best herbs," Leah said. They source herbs from about 10 organic, naturally grown and ethically wild-crafted sources. High Garden offers 80 herbal blends. Leah will also do "herbal matchmaking" for customers who request custom blends.
When sourcing tea, Joel works directly with the growers as much as possible.
"From day one we've stuck with unflavored, high-quality loose leaf teas," Joel said.
He sources green tea from two small gardens outside of Uji in Japan's Kyoto prefecture. Joel also works directly with a garden in Taiwan and with a friend in the country who helps him connect with smaller tea farmers. He takes the same approach with teas from India, too, as he and Leah try to support as many small-scale ventures as possible.
The teahouse has a kombucha tap room in the back in which their friend, Andrew Kingery, employs his kombucha brewing skills. Leah works with him to formulate fermented botanical brews. Another friend, Kim White, makes a cactus kefir.
Leah Larabell at High Garden Woodland Tea House & Sipping Apothecary
High Garden offers monthly workshops in which Leah shares her herb expertise; and Joel teaches people about tea.
"It's a way to deepen people's connection and comfort level with these plants," Leah said.
They shunned the opportunistic cutthroat approach to business.
"It's been nice to not get caught up in what appears to be modern-day business," Leah said. "Business doesn't just have to be business; business can be love."
The couple encourages small-business owners to operate in a way that feels best and to be authentic, and say customers will respond in kind.
"We're a passion project. When you're authentic, people are authentic," Leah said. "There is trust in your fellow human."
Related Posts: