China Greatly Expands Black Tea Trade with Sri Lanka
Home

China Greatly Expands Black Tea Trade with Sri Lanka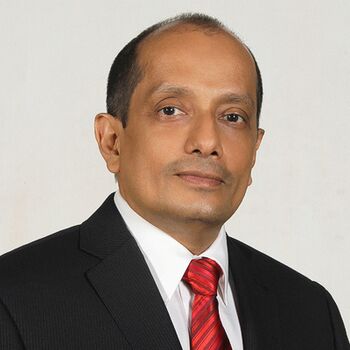 China has become "a market of real interest" for Sri Lanka, Kenya and India.
Anil Cooke (Photo courtesy of Anil Cooke)
Anil Cooke, CEO of Asia Siyaka, one of Sri Lanka's major tea brokers in Colombo, wrote that by October 2019 Sri Lanka had shipped 8.8 million kilograms of its prized Ceylon black tea to China, an increase of 12% in exports year-over-year. Sri Lanka produces 300 million kilograms of tea annually and expects to ship around 10 million kilograms to China. The tally approaches one-third of China's tea imports.
"China has emerged as Sri Lanka's fastest growing "new market" with interest in traditional Orthodox black tea and high-end packaging common amongst the increasing number of Chinese tourists visiting Sri Lanka," he said.
Advertisement
Cooke attributes China's renewed interest to the "winning combination" of Sri Lanka's varied micro climatic conditions; extensive plantings of old Chinese cultivars, and a tradition of making orthodox black tea that is largely unchanged for more than 150 years, wrote Cooke.
In 2019 Sri Lanka announced a $50 million global promotional campaign and is keen to double exports of bulk and value-added tea. This year Sri Lanka set a target of $3.5 billion in tea exports by 2030 and overall tea production of 350 million kilograms. The campaign initially targeted Russia but shifts attention to China in the new year.
Sri Lanka Tea Board Chairman Lucille Wijewardena told China's on a visit last month that the island country sees China as a leading export market with great potential.
"All this time China was not a major buyer of Ceylon Black Tea as it produces its own high-end green tea," she said. "Sri Lanka imports green tea from China which we re-export to other countries. For us fortunately, in China, the younger population has started drinking black tea with milk. So now over the next five years Sri Lanka sees a lot of potential in China," Wijewardena said.
China is the world's largest tea producer and while green tea is the predominate style, growers process millions of kilograms annually of high-quality black tea from Yunnan and Anhui provinces where Keemum has been popular since 1875. Annual production is 2,500 metric tons. The flavorful black tea is an essential component of English and Irish breakfast blends.
Demand for Sri Lankan tea is driven by the popularity of milk tea, a creamy blend that requires a stout base tea. Greens won't do.
International Tea Committee (ITC) statistics show a steady increase in tea imports to China from 1.18 million kilograms in 1998 to 35.5 million kilograms. Trade partners include India and Kenya for black tea and Vietnam for lesser grades of green.
Sri Lanka enjoys a significant share of this market, wrote Cooke. In 2008 Sri Lanka shipped 910,000 kilograms to China. Ten years later exports had increased to 10 million kilograms, which is 28% of China's total imports.
Cooke said the Chinese "prefer some of the better liquoring teas, but interestingly 82% of the shipments are in bulk form for value addition in China."
Changing Trading Pattern
Sri Lanka has experienced changes in its pattern of trade over the past 20 years, with external forces having a strong impact on the movement of tea. Prices are a factor. Tea auctioned in Sri Lanka brings the highest prices in the world. Sri Lanka exported a record $682 million during the first part of the year, up 7% compared to the same period a year earlier. But exports are destined for new markets.
Sri Lankan tea workers (Photo/Adobe Stock)
In 2006 Russia/CIS purchased 24% of all Ceylon tea exports with the Middle East and North Africa importing 52% of all shipments. Last year Russia/CIS shipments "had dropped significantly to 17% of all exports whilst Middle East and North Africa had grown to 56%," writes Cooke.
Turkey, Iran, Iraq remain important to trade and in recent years there has been a rise in exports of Ceylon high end teas to the United States and Canada.
"Internally the country has experienced a steady decline of quantities shipped, resulting from its inability to manage its tea production which peaked at 340 million kilograms in 2013 and resulted in the country's highest exports of 317 million kilograms in 2014," Cooke explained.
"It's been a steady slide since then with tea production dropping to 292 million kilograms in the El-Nino drought year of 2016," he said.
Since then the country has experienced extremes of weather and in 2018 production was at a low of 304 million kilograms. "Exports slumped to an 18-year low of 271 million kilograms in 2018," he said. "This spring production increased, and exports rose to 246 million kilograms with October totals 10% higher than the previous year but yields slumped in November due to excessive rain. The country will therefore struggle to achieve the 300 million kilogram figure by the end 2019," he said.
After the collapse of the Soviet Union in the early 1990s, Russia/CIS emerged as one of the largest markets for Ceylon teas. Russia has been a prime destination for Ceylon tea exports ever since but targeted taxation that blocks value-added imports to protect Russia's domestic tea blenders ultimately reduced the number of Ceylon tea brands in the market.
Customers there are gradually adapting to the diluted blends instead of 100% Ceylon tea due to a weak currency and a prolonged economic slump. Direct imports to Russia peaked at 58 million kilograms in 2006 with the other CIS states absorbing another 10 million kilograms, wrote Cooke, who is citing official government figures.
"By 2018 quantities imported into Russia had declined to 29.9 million kilograms with other CIS states countries absorbing another 13 million kilograms, 78% of all imports are bulk tea blended at destination instead of origin. "Ten years ago the Bulk tea component was under 50%," said Cooke
Sri Lanka's tea industry employs 2 million in a population of 22 million and relies on 400,000 farmers. The industry annually earns $1.5 billion in foreign exchange.
Source:
Related Posts: